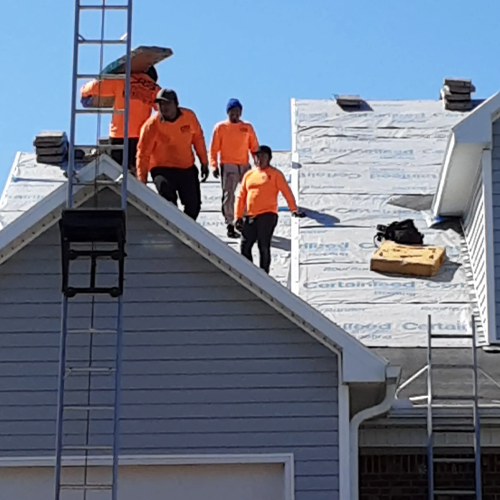 OUR TEAM
At Contract Roofing Solutions (CRS), we specialize in roofing and are capable of doing any home improvements as needed. We can do gutter installations and fascia repairs, and we hold the exclusive licensing capabilities to install the patented wrap roof system in Georgia, Tennessee, and the Caribbean. Our team has more than 20 years of experience and has provided services to Georgia and Tennessee since 2019.
With a well-known background of people and businesses that had suffered roofing losses due to Hurricane Maria, we are working to elevate the roofing industry to not only improve the growth of communities but also due to the constant storm damage properties suffer, we want to serve as a regular resource for any roof repairs or installations. We work with you to explain the benefits of roof wrapping and are available 24 hours a day.
We are veteran-owned. We are ethical, honest, and hard-working. We are solution-oriented. We make things happen! As a BBB A+ member, we truly care about you, the customer. We are committed to making sure we provide perfect service, which is why we have gone to great lengths to receive exclusive licensing and certifications. We are certified by GAF, Certainteed, and Atlas. Learn more about our team below and schedule your service with CRS today!
OUR TEAM
Thomas Brannon Fain
Since the early '90s, Brannon Fain has dedicated his career to teach and show others how to become successful installers and how to move forward and improve their own professional portfolio. In 2019, Brannon Fain decided to share his skills with his friend and now business partner Steve Chavez to expand the construction and renovation industry in order to pursue their mutual dreams through Contract Roofing Solutions.
Steve Chavez
A veteran of the U.S. Army, and former law enforcement officer, Steve Chavez changed paths and joined forces with Brannon. To supplement the already known flooring company, Contract Flooring Solutions, a new business began: Contract Roofing Solutions. Steve and Brannon are eager to assist those impacted by hurricanes and inclement weather to provide them with only the best roofs.
Our Partners